This is another post last year to commemorate the Philippines' National Language Month, in Tagalog then which I translate in English now for the benefit of readers from other countries interested in languages. I also did some minor editions like I updated the list of words.
August 13-19 used to be celebrated as National Language Week . This was because Manuel Luis Quezon, former president and called the Father of Pilipino Language, was born on August 19, 1878. He established the Institute of National Language (INL) to create a national language for the country. On December 30, 1937, President Quezon, through Executive Order No. 134, officially declared Tagalog as the basis of the national language of the Philippines. The national language was called Pilipino in 1959 to differentiate it from Tagalog. In the 1987 Philippine Constitution, Pilipino became Filipino which now includes the entire 26-letter set of the ISO basic Latin alphabet, the Spanish Ñ and the Ng digraph of Tagalog
Now that it's National Language Month, let us note the Tagalog used in television and newspapers in Metro Manila.
Television newscasts, specially the evening news, used to be in English e.g. GMA Evening News (GMA) The World Tonight (ABS-CBN), News Watch (RPN9) , and BBC Primetime News (IBC13) . They evolved into Tagalog newscasts which was appreciated and commended by the Commission on the Filipino Language https://philippineculturaleducation.com.ph/komisyon-sa-wikang-filipino/. At present the following newscasts are in Tagalog – Saksi , Balita, Aksiyon at TV Patrol (which is in Tagalog even if its name is in English)
There are several newspapers and tabloids in Tagalog per Wikipedia , but my observations are based on those which have online publications: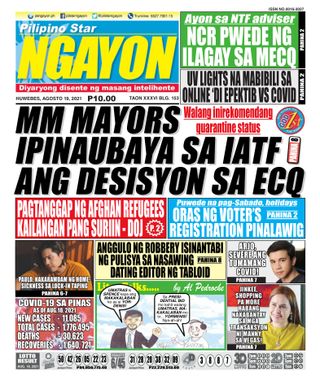 I noticed that the present crop of Tagalog newspapers are a far cry from the Tagalog publications of long ago. More and more words are being " Tagalized " , that is, English or foreign words said in Tagalog pronunciation or accent or spelled in Tagalog, even if there's an equivalent word in Tagalog like the following :
Commonly Used Taglish /English Words in Tagalog News Reporting Equivalent in Tagalog
Ambush /Ambus Tambang
Anyos Taon/gulang
Aksidente Sakuna
Desisyon Pasiya
Editor Patnugot
Eksperto Dalubhasa
Empleyado Kawani
Gobyerno Pamahalaan
I-extend Palawigin, pahabain
I-konsidera Isaalang-alang, pag-isipan
Importante Mahalaga
Importasyon Pag-angkat
Komite Lupon
Lider Pinuno
Mayor/Meyor Punong-bayan
Mentena Panatilihin
Na-delay Naantala
Nakolekta Nalikom
Naging emosyonal Napapaiyak
Peke Huwad
Probinsiya Lalawigan
Robbery Nakawan
Siyentista Paham
Siyudad Lungsod
Sosolusyonan Lulutasin
Suhestion Mungkahi
Tsansa Pagkakataon
Unibersidad Pamantasan
Probably, the reason is there is a deadline for broadcasting or printing and news writers are pressed for time in researching and choosing the appropriate words. This shows that what's on top of their minds is the foreign language such that it is the first that come to mind while writing.
Perhaps this can be considered as growth of a language, the inclusion or adaption of a foreign language into the national/native language. Even English has many words derived from Latin. There are also many Spanish words which are now part of the usual Tagalog words like bintana, lamesa, and many more and it seems the Tagalog equivalent durungawan and hapag have been forgotten.
For me, this is acceptable if there is no equivalent word in our language like technology translated to teknolohiya, pandemic which can be translated as pangmalawakang sakit but pandemya is shorter. Some Tagalized words are for things which are not found in our country like snow so it's reasonable to use a foreign-based word, thus, we use nyebe which is based in Spanish. Other words refer to new inventions from other countries like Internet, Facebook and others. In daily conversations we're also not careful in using the appropriate word and speak whatever comes to mind first.
However, in newscasting and other formal communication and documents, if there are equivalent words, these should be used in order for our language to live and grow otherwise neglect and unuse will lead to its death in the same manner that our brain and muscles atrophy when not used or exercised. The Commission on the Filipino Language can have measures and activities which preserve and propagate our language because language reflects the soul of a nation.
Tagalog Post Tagalog Sa Pagbabalita Sa Telebisyon at Pahayagan